Minuteman Library Network ILL
Borrow and request items from all Minuteman libraries with just one library card. When your library is a part of network like Minuteman, library access doesn't end at the border of your city or town. A Minuteman card grants you borrowing privileges at all member libraries, as well as from the shared Digital Collection. Search the MLN Catalog.
Materials may be requested through the MLN network. MLN libraries pull hold items and send them through a delivery service. Patrons are notified as the items are checked in at the destination library. PLEASE NOTE: Due to Covid-19 reductions in staff and hours, the hold system is slower than usual. Materials are also quarantined between 3-5 days when received.
To get a library card, call the MPL at 781-395-7. Get a head-start with the online registration form below to start borrowing and requesting from the Digital Collection right now. You can also get a Library Card.
---
Commonwealth Catalog
With access to millions of titles, the Commonwealth Catalog extends your library's reach to all participating libraries throughout Massachusetts, with convenient pick-up at your local library.
What you should know about the Commonwealth Catalog:
Start local : Libraries share items across the state, but it's always faster and more cost effective to check locally first, so if your local library network doesn't have the item, it's time to look in the Commonwealth Catalog.
Powerful search: The Commonwealth Catalog searches all participating libraries in one easy step and allows you to sort your results by material type: books, audiobooks, DVD. Right now eBooks are not a part of the search, but we're working on it. I
Millions of items: The Commonwealth Catalog gives you access to millions of items from libraries that hold unique collections such as Boston Public Library and UMass Amherst and other academic, special and public libraries.
Convenience: Once you request an item through the Commonwealth Catalog it usually only takes a few days for your local library to receive it and they'll notify you so you can stop by your library and pick it up. You'll also return the item to your local library.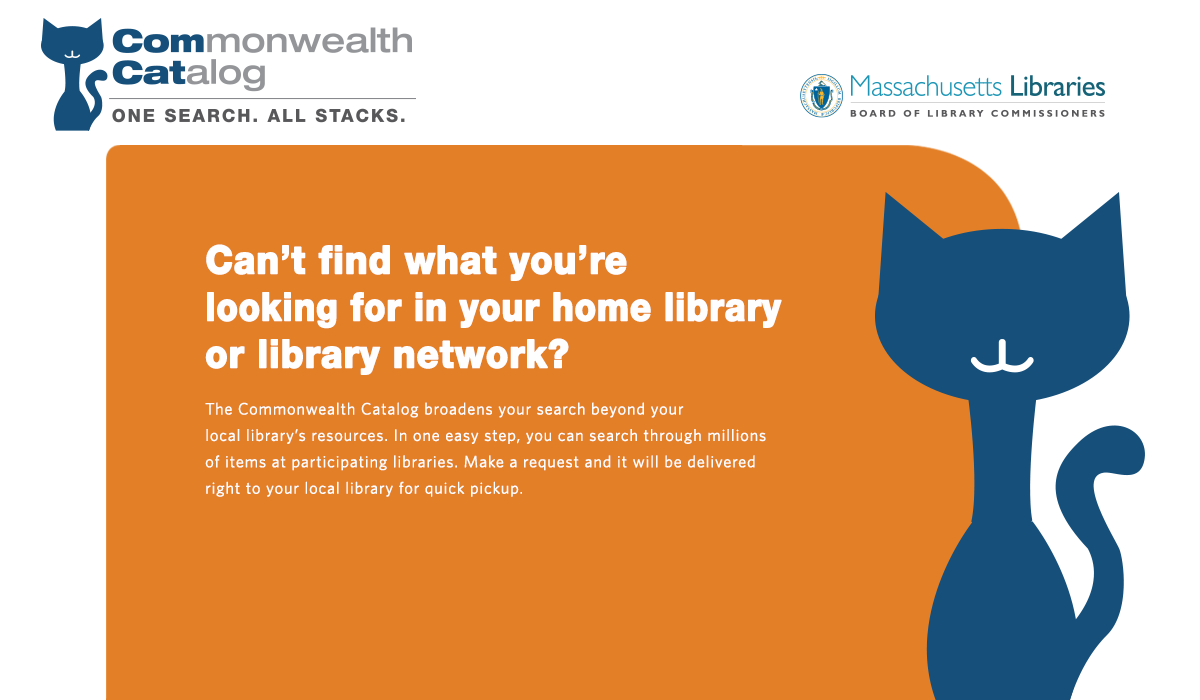 Still can't find what you need?
If an item is not available through MLN or Comcat, we can try and borrow from institutions outside of Massachusetts. Please call the Library Information Desk at 781-395-7950 for more information.
Requests to Purchase
When a patron requests that the library purchase a particular item not available in the collection, in most cases, library staff will first attempt to borrow the item through interlibrary loan. If that is not possible the item may be purchased based the selection criteria in the Collection Development Policy. Not all requested items will be purchased.